50% off all Sláine titles!
Celebrate 35 years of the Celtic barbarian with 50% off print and digital titles in the 2000 AD webshop!
1 month ago
He's sliced and diced and warp-spasmed his way through history for 35 years – and we didn't think it too many years to celebrate!
Pat Mills and Angie Kincaid's Celtic barbarian, Sláine, celebrates his birthday this week and you can get 50% off all print and digital Sláine collections in the 2000 AD webshop!
Don't forget that if you register on the 2000 AD webshop with the same details as the 2000 AD app then you can buy webshop sale items and download them straight through the app!
With duplicitous dwarf Ukko and his favourite weapon – a stone axe called Brainbiter – by his side, Sláine is a combination of Robert E Howard's Conan and the ancient Irish hero Cú Chulainn.
Headstrong, arrogant, brash, and not afraid to chop first and ask questions later, it is no exaggeration to say that, since his first adventure, Sláine MacRoth has become one of the mainstays of 2000 AD.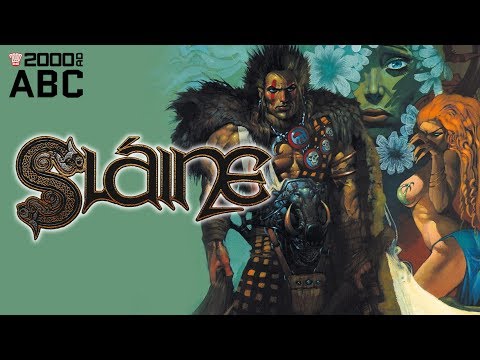 Read Sláine in order:
Sláine: Warrior's Dawn
Sláine: Time Killer
Sláine: The King
Sláine: The Horned God
Sláine: Demon Killer
Sláine: Lord Of Misrule
Sláine: The Treasures Of Britain
Sláine: The Grail War
Sláine: Lord Of The Beasts
Sláine: Book Of Invasions Vol. 1
Sláine: Book Of Invasions Vol. 2
Sláine: Book Of Invasions Vol. 3
Sláine: The Wanderer
Sláine: The Books Of Scars
Sláine: The Brutania Chronicles - Book 1
Sláine: The Brutania Chronicles - Book 2
Sláine: The Brutania Chronicles - Book 3